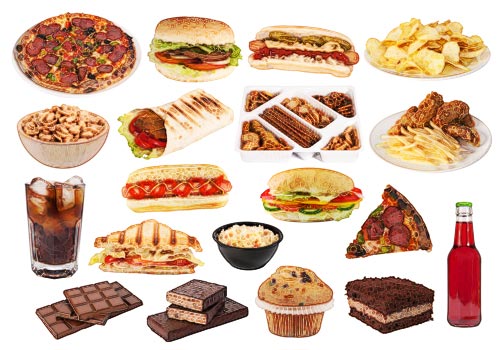 To start this post I need to take you back to the Paleolithic Period, around 10,000BC. This was the end of the ice age and the first trace of human existence. Humans survived and developed existing solely on hunting mammals and naturally grown vegetation, such as vegetables, nuts, seeds and berries. Not only did we survive, we flourished! Reproducing rapidly, learning quickly and developing new skills. We survived off the land, moving from place to place following food sources, until around 8000BC when cultivation of wheat began to spread. The early Egyptians were the first to develop the use of baking the wheat and creating bread. The cultivation of grains meant one thing; stability. Now humans could create their own food from the land, instead of roaming the land for food. They could settle in one place, a few square miles supporting hundreds of people instead of a hand-full. They could build, adapt and develop.
You see, I am not saying refined carbs are the devil. They had their purposes, to feed thousands more people than game and vegetation could do alone. I'm not about to tell a starving Ethiopian child to stop eating his rice because it is bad for him. However, the point I hope to make today, is that in our modern society, in countries where fresh nourishing food sources are readily available, refined carbohydrates are not only unnecessary, but highly dangerous in the levels we consume them and are the main cause of the obesity epidemic we are struggling to keep up with today.
For those that are unsure 'refined carbohydrates' are complex starchy carbs, your pastas, breads, rices and starchy vegetables like potatoes. Anything containing any form of grains or corn. They are packed full of refined carbohydrates and are completely nutritionally useless! Then what about my 50% energy allowance for carbs, which is the main energy system my body functions on? Well what if I told you you can get all the carbohydrate energy your body needs from Complex Fibrous Carbohydrates? That is, any vegetable. A little side note.. corn is NOT a vegetable. It is a man made CORN. Not vegetable.
We are all born with the same DNA as our paleolithic ancestors. Less than 1/10th of 1% of our genes have changed in the last 10,000 years. We are born already adapted to survive off of the land, and then we mess it all up. From an early age we are introduced to refined carbs and our bodies begin to rely on them, crave them more and more, and now we have an obesity epidemic on our hands with heart disease, type two diabetes, strokes and high blood pressure continuously increasing. However, ALL IS NOT LOST! As quickly as our bodies can adapt to 'need' and crave for refined carbs, we can adapt to not need them. Over the course of a few weeks of changing to a refined carb free diet we can actually reprogram our genes from deriving most of our energy from fat instead of carbohydrate. (I will get on to the importance of healthy fat in our diet in a future post.) Not only do we switch to burning fat, but the effects of eating refined carbs work against our bodies, making us tired, agitated and depressed, which by the way, it already does. We are just accustomed to the feelings and pop any pill the doctor prescribes to numb the effects.
Now you have the basic idea of how our bodies can benefit from cutting refined carbs from our diet I will get into the science behind it all. I will try to keep it as simple as possible.
Firstly carbs are sugar. Once carbs are ingested they are broken down (metabolised) into galactose, glucose and fructose.. sugar, to be absorbed into the gut, where they make their way to the liver and are turned into glucose molecules. Refined carbs have a very high glycemic index. The glycemic index relates to the amount of insulin needed to be released to control the blood sugar levels once glucose has been absorbed into the bloodstream. The higher the glycemic index, the higher the blood sugar levels rise and the more insulin is released. This causes your body to crash, some people have a higher tolerance than others, but everyone gets it in some form. If you feel drowsy and weak in the afternoon after eating refined carbs at lunch you have a low tolerance to the insulin rush produced. You would seriously benefit from cutting your refined carb intake, particularly at lunch. Exchange the calories you would consume from refined carbs for veg, healthy fats and protein. The slow releasing energy from complex fibrous carbs, monounsaturated fat and protein will keep you fuller for longer and is packed full of the micronutrients we need for normal healthy muscle function, digestion and cardiovascular system. You will also find your craving for salty, fatty, sugary foods will fall. The more sugar you consume, the more of it you crave. Trying to diet and cut calories while still eating refined carbs will just make life horrible, you will either be constantly battling cravings and feeling rough, or giving in to the the cravings and feeling even worse. No only will you feel rubbish, you won't be losing fat. Once the liver breaks down sugar into glucose, the excess is stored in the liver. The liver only has a small capacity for stored glucose, so once the liver has reached full capacity the excess glucose is returned to the blood in the form of triglycerides (fatty acids). These are spread out to parts of the body to be stored as fat, usual places being belly, bum, breasts and thighs. Unlike the liver, the rest of the body has no limit to the amount of fat that can be stored!
These days, by the time fresh food gets from the field, through the shops, to your house and into your system the accuracy of the nutritional value of the back is somewhat questionable. The guidelines were written when we were relying on our local green grocers/farmers market to supply our food. When food was from farm to consumer in a day, not a week. Every day that passes the nutrition in the food depletes. So it makes sense that 5 a day, should be more like 50% of your day, with healthy fat and protein making up the rest.
Whether you want to lose weight a lot of weight, shed the last few pounds, or are perfectly happy with your size but want to heal yourself from the inside, I can only recommend cutting down on your refined carb intake as much as possible. This is, in my opinion, the only way of eating that is sustainable for life and 100% healthy. No FAD, No calorie counting, No chemicals.
To summarise..
Avoid:
Refined carbs; bread, pasta, rice, potatoes, cereal, flour, oats, couscous, beans, corn and soy (check labels.. corn and soy are in almost everything processed!!)
Starchy vegetables; potatoes
Unhealthy fats; vegetable oil, lard, palm oil, coconut oil and margarine
Very High sugar fruit; tangerines, cherries, grapes, pomegranate, mango, figs, bananas and dried fruit
High sugar fruit; plums, oranges, kiwi, pear, pineapple
Eat:
Complex Fibrous Carbs; Vegetables – all and every kind! Lots of green veg and try to 'eat the rainbow' to ensure you are getting every micronutrient you need.
Protein: Game meat, pork, chicken, beef, turkey, lamb, fish (at least 2 sources of fatty fish per week; salmon, tuna, mackerel, herring, trout, sardines) and eggs.
Healthy Fats: olive oil, canola oil, sunflower oil, peanut oil, sesame oil, butter (from grass fed cows) avocados, olives, nuts (almonds, peanuts, macadamia nuts, hazelnuts, pecans) walnuts, flaxseed, sunflower, sesame and pumpkin seeds and fish oil.
I would love to hear your comments on this topic. Please leave them below.